Dear Quogue Residents,
Thank you to all who came out to my toasting event on the Village Green last Friday afternoon.  I appreciate very much everyone's time and effort to be there, and I certainly enjoyed myself.  (Who does not like nice things being said about them, even if somewhat exaggerated?)  I would like to send my special thanks to the organizers of this send-off event, Randy Cardo, Ted Necarsulmer, Bob Treuhold, Sarah Adams, Kathy Lomas, Jeanette Obser and Barbara Sartorius.  I am very grateful.
While taking a break from the formidable task of cleaning out my office for Mayor-Elect Bob Treuhold, I had occasion to look over some of the emails I wrote to residents over the last couple of years.  There were plenty of terms used in those emails that are a little depressing and I would just as soon forget.  Here are some examples that you will no doubt recall: "essential business,"  the dreaded "non-essential business,"  "New York Pause,"  "New York Forward,"  "social distancing,"  "six feet apart," "gathering limit,"  "yellow, orange and red zones,"  "micro-cluster focus,"  "New York State Police Reform and Reinvention Collaborative,"  "Andrew Cuomo," "Phases 1 through 4" of the reopening,  "quarantine,"  "self-isolate," "non-contiguous state," and  "vaccine hub."  There are many more, of course.
There were also some words of advice for Quogue residents (exhortations, really):  walk and run on the left, cycle on the right, clean up your  dog's poop and take it with you, always wear a shirt while on a public street in Quogue, U-turns (both conventional and creative) are prohibited on Jessup Avenue, Village Lane is one way (like the sign says), shop local (as in many other things, the old adage "use it or lose it" applies), do not leave your key fob in the car (putting it under the seat does not work anymore) and have the electrical connectors and grounds checked on your pool if they have not been for a while lest electrical current gone astray shock a swimmer.
And there was one comment from Friday, November 6, 2020 that actually turned out to be quite prescient, though understated as it turned out:  "As of Friday morning, some battleground states are still counting, the President is litigating and pretty much everyone with a microphone is talking, but the chances are pretty good that Joe Biden will be moving into the White House next January 20. High drama between now and then is highly likely."  Who could have guessed, however, that the events of January 6th would transpire and the 2020 election would still be front and center in June 2022?
Here are just a few items of current interest:
Bob Treuhold, running unopposed for Mayor, and Sally Beatty and Kim Payne, running unopposed for two Trustee seats, were all elected on Friday, June 17th.  Thank you to all of them for taking on the responsibilities and also to the more than 130 voters (and 7 who took the trouble to submit absentee ballots) who turned out to vote in these uncontested elections.
The engineering maps for the part of the FIMP project that directly affects Quogue were released recently by the Army Corps of Engineers.  The work is anticipated to be accomplished in the fall of 2023. The basic project specification is for a beach height of 9.5 feet and a dune height of 13 feet.  The maps show the sand placement in Quogue from the eastern border extending westward just past the Quogue Beach Club. The Town of Southampton has the responsibility for arranging for surveys of the properties involved—supposedly 125 between Hampton Bays, East Quogue and Quogue–with about 60 in Quogue—and for obtaining storm damage reduction easements from the affected parcels that will allow the work.   Meetings will be arranged for this summer, according to the information that we have received.
The due date (July 1) for payment of Quogue Village fiscal year 2022-2023 property taxes is on Friday.  If you misplaced  your bill or think that you did not get one, you can find out the amount due (and pay from your bank account) by clicking on the "Pay Your Taxes" button on the Village website, www.villageofquogueny.gov.
The Village leaf blower law, which went into full force and effect on May 15 and can be found at Section 111-4O of the Quogue Village Code (https://ecode360.com/6195081), seems to be working pretty well—landscapers are getting the word as a result of the many warnings and some summonses that have been issued.  Remember that our law is not a total ban.  This time of year, however, gas powered leaf blowers have to be of the quiet variety (no more than 65db(A)).  If you think that you are witnessing a violation (your ears may tell you), please report it to the police.  Do not approach landscapers on your own.
The Moriches Bay Project, which maintains a floating platform known as a "Flupsy" at the Quogue Village Dock for nurturing oysters that when grown will be relocated about the bay to help clean our waters, is holding an event at the dock on Friday, July 8th.  Please see the details below: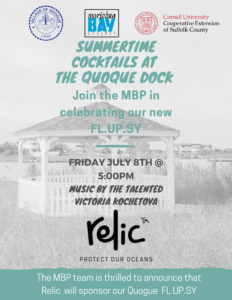 The north of the highway dwellers like me will appreciate that Scrub Oak Road and the rest of the concrete portion of Jessup Avenue are next on the list of major road projects to be completed.  Planning is well underway, and we are expecting to start work in the fall.
This will be the last of these missives from me.  Thanks to all of you who provided encouragement for me to write them and more broadly for all the support that you provided to me as Mayor.  I know that you will do the same for the new Mayor and Trustee, particularly while they are getting their legs under them.  I have every confidence that they will do a superb job.
I hope that it has come across loud and clear over the years that I believe that the greatest assets that the Village has are its employees and volunteers.  Throughout my tenure, I have relied so heavily on them to do their jobs, and they have delivered superbly.  It has been a pleasure to serve alongside them.
Enjoy the summer!  I know that I will.
Peter Sartorius
Mayor