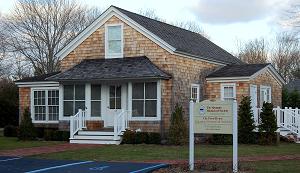 The Quogue Historical Society was founded in 1947 as the Historical Committee of the Quogue Library. In 1948, the Post family donated Quogue's first schoolhouse, built in 1822, to the Library to be operated as a museum. It was moved to its current location behind the Library and, in 1949, opened to the public.
In 2011, the Society moved its offices from the Quogue Library to new headquarters at 114 Jessup Avenue. The building provides two floors of exhibition space; climate controlled storage of the Society's collections of artifacts, clothing and textiles, photographs, and documents; research facilities, and administrative offices. The Pond House, as it is known, is owned by the Village of Quogue and administered by the Society under a license agreement.
The mission of the Quogue Historical Society is to collect, preserve, and
interpret the history of Quogue in order to foster among its residents and the
broader community a deeper understanding and appreciation of the
rich cultural and architectural heritage of the Village.
The Society fulfills its mission through three main programs: education, collections care and research, and the preservation of historic buildings and sites. You can learn more about the Society and the work we do, Quogue history, and upcoming exhibitions and events at www.quoguehistory.org.
If you are interested in donating historic materials and photographs, becoming a volunteer, or making a financial contribution to further our work, please email info@quoguehistory.org.